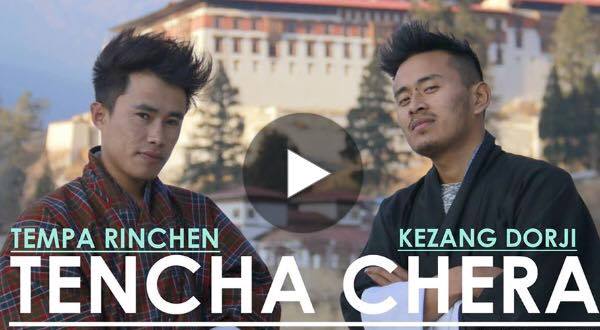 Song: Tencha Chera
Artists: Kezang Dorji ft. Tempa Rinchen
Album: The Kuzuzangpo Album
Music: Tempa Rinchen
Recording & Mix: M-Studio
Tencha Chera Lyrics
Verse 1: (Tempa Rinchen)
Gangley bapei chumo zoom
Ngachey nyi gi tseywa namya mizo sey
Chikha deyni labey cheri yay
Chegi lotsu gayra jay songnu
Chey gi labmi shob eein
Ngalu demba chiya malabay
Nge sem gin chera drendi yay
Due tencha chera drendi dewong
Pre-chorus:
Namkhai karma shaar di depda
Sakha heyndi namkha tago noyi
Tsey cho ngai dawa shaar wai ditsey dikha
Labchi zungdi shaywa jogo noyi
Chorus:
Dato gi bana ya boom cheygi genmi gola di
butsu ngagi semkha thralam lam
Dato gi bana ya boom cheygi labmi lotsu
ngegi semkha zhadi yey
Chelu ra gadi dey yi
chelu ra gadi yay may
Ngey sem gin chera gadi diwong
Di tencha chera gadi dewong
Verse 2: (Kezang Dorji)
Ngeelam nanglu eeindo zoom nga nyimchi chey thong
Chey thomchi chelu nga crazy song
Cuz I never seen no girl so damn fly like you
No matter it takes to make you mine I will do
Chey sacho galeymo chey lhayi seymo meyna?
Chey luyi  bumo meyna? Ain't no other girl
On Earth I can compare you with.
You're – outta this world.
What you done to me? No, I just can't help.
I'm outta control. I'm under your spell.
All I see is you. All I feel is you.
My baby girl, wanna be with you.
Nga gatey taru  boom cheyra thongmey
Migto tsumru semkha cheyra wongmey
Ngeelam nangi azhi, chey gatey yeyru
Nga wong dho mey chegi denlu.
Pre-chorus:
Namkhai karma shaar di depda
Sakha heyndi namkha tago noyi
Tsey cho ngai dawa shaar wai ditsey dikha
Labchi zungdi shaywa jogo noyi
Verse 3:(Kezang Dorji)
Gatey taru nga thongmey chey
Gatey joru cheyri wong mey chey
Zhen gaya minggo nga gomey chey
Gatey yeyru chey wong na mey
Shawdy, where are you? Please gimme a clue?
Gasa Lamay singye zoom nga kaw chey machu
Girl, I can't survive without you in my life.
Now I need you my side all day all night.
Girl, I wanna make you Ngey alu tsu gi ama
You can be my Michelle. I will be your Obama.
If I got you with me we can make history.
So, baby come to me. Get me outta misery.
Semgi reywa zeyru gawai sem lu jurwa miba
Ngey  mitsey thungku lhanju—limi dina
(Tempa Rinchen)
Cheyda chikha zogo noyi sa
Chorus:
Dato gi bana ya boom cheygi genmi gola di
butsu ngagi semkha thralam lam
Dato gi bana ya boom cheygi labmi lotsu
ngegi semkha zhadi yey
Chelu ra gadi dey yi
chelu ra gadi yay may
Ngey sem gin chera gadi diwong
Di tencha chera gadi dewong
Watch the music video here:
Hear and download the mp3 here
5,305 total views, 1 views today