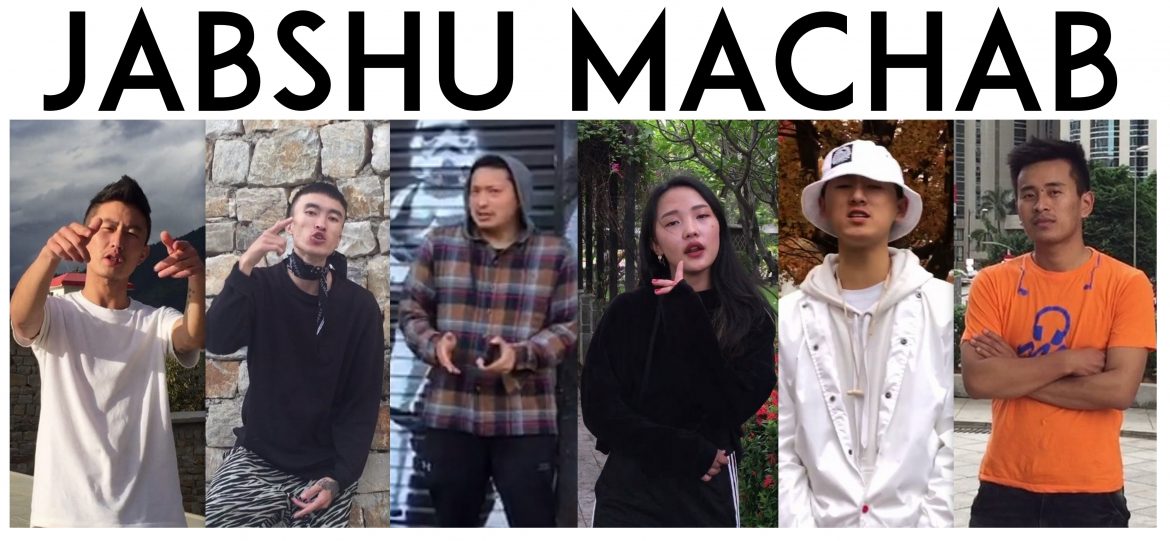 Song: Jabshu Machab
Artists: Kruxibles, Kinley Wangchuk, Karma Euden Norbu, JD & Kezang Dorji
Music & Mix: Play Studio Bhutan
Lyrics
1. Podo (Kruxibles)
Nge wangta lungta bub, Nomi la jo ma tup,
Sem gi rewa drup matsu, Chiru nyi long matoup.
Tsey hayma tsho masab ley,
digi drubdrey tsey darey dunyel nyom eim nga gi shey.
Nga zum alu meb thay gob khung chi yay,
khong tsu lu dungnyel yoeb eim nga gi shey…
Sang bae zha ni ein ra men, dongkha thayn di donglen bay.
Chi gi chilu charo baygo, Jamchey zoni pang ra pang go.
Dato mili thob bi kabtsu rang gi chogdup zhen lu tengo.
Tab madew gazum ya thaywong, Roh gi bewmey sey rang gi bey ni miwong.
Kha tang may sey gom zhu ni miwong.
Druk mi gi drub mi lu charo maben zhen ga gi bay ni mo?
Chey ga mo? Nga gamo , ngachey gamo?
Ngachey drubi miser. Pelden drukpa gyalo lha gyalo.
Druk mi gi drub mi lu charo maben zhen ga gi bay ni mo?
Pelden drukpa gyelo, lha gyalo.

2. Sexcy Wangchuk (Kruxibles)
Kruxibles! Peace!
Khong mangsho gi ngachay kruxibles eim shay.
Khong masho gi ngachay ngo shay.
Nge charo lalu chi gi nge pham nyi layshom bayra noe shay.
Deybewda nge pham nyi gi nge charo gayra tayngay eim khong gi shay.
Nge charo ga da ga bayru nge Aie gi mapalay cha zha mitub.
Chey lu kha chaywai lo chi lab gobay Appa.
Appa choe gi nodo zum bay ma-tsun tsib maza.
Tsagay lam may Appa. Tama nga gi thi misho ga no dob may Appa.
Thi sho soo wa chin chey dongkha gadey bay thennii
Appa gi lab tse chey chikha yoe mi charo gayra chey ra chor chi bay lo.
Choe nangdok sa hepda cham chi chey lu sha tsa mi charo ga da ga ena digang shay.
Dato chey chikha yaymi charo gayra chey lu sha tsa di chey da chikha deb meyn ba tey.
Am_chu_ku_lii,  la lu chi chikha lay taw da tsow tsow zum bay thong
za di taw da nang zey ma tsow tsow wong. Khatsa nge charo chamsho dari nge jamchay.
Khatsa nge jamchay tsu daray nge charo. Khatsa nga lu gamii bum di daray butsu zhen da cha.
Dato yoen tama mi. Mitse takpa tenpa mi. Azha gagpaa lu ya dogob mi nga nyozey zani mi.
Nge rap gi dang ma_nyen. Nge tse lu nyenn. Nga lab mii tse tsu khachay wai lo yen.
Gawai nyima shawong no bhu nga tsagen do.
Rang ga mii mee da deyni yayru ga.
Gawai nyima nub macho, sey wai melam zhu.
3. Kinley Wangchuk
Call me a crazy man, I try to understand,
I gotta simple plan. Do I, who I? What you trying to say?
 What you trying to say? I don't know, maybe something positive.
Like knowledge, what you learn in college, you gotta give.
Jogo nosa jo mitsu. Heygo nosa hey mitsu.
Tsageng bey bewachin di ley nga gi lab mishay?
Theynmi ga ley go mishay
Diwa la ley di, nga la mi di, nyen da, atsi goosh
Let me tell you bout moderation, not just elation a little bit of devastation.
We got to taste it. I'm impatient. Not bad things but good things I'm chasing.
If it's rotten, automatically forgotten.
The apples in the basket, fast it spreads like cholera.
If it's negative, I egg it if, your message isn't clearer.
I'll be your worst nightmare call me the terror.
I'll be leaving now. I'm flying back to Canberra.
4. Karma Euden Norbu 
Lap gay mey, nyen na mey,
Daru tsa chi lap dho mey,
Nosam, hema tang ni dhi shuma tang ni miwong si
Dato, beymi laa dhi naba jay ni miwong si
Choe pelden drukpi nazhoen en sey ata semkha zha go si,
peycha lhab ru lhab, tsem tsey ru tsey, rap bey ru bey,
laa gachi beyru choe ra sem gani yoen beygo si,
Gami gi yaa ya laow, Haters gonna hate,
you just gotta wait, till you fill yo own plate,
cuz its like a blind date better not be late,
All the abcs "ka kha ga nga"
lhab ni gokab choe gi mathop ru,
Atsi gu, duetshey dhu, yoe bab dhu, choe lu
Da nga ley lap ni seyru, Choe nomi denda drup chu,
Choe gami laa dhi thop chu,
Rang kolay cham chi noni menba Roh ya sem ga chu,
A lida bida hard work a lida bida love
Is all that it takes you to get whatchu want.
5. JD
JD JD zeyrmi nga eein
Jigme Namgyal gi many many la gyal
Jumolhari thokha zeyyi rap theynyi ra
Gotsupda nga tsagay. Da di rap gi nyagay
Chey tsu gi mathong nga tsep theymda
Nga michu biwda. Chey tsugi ngalu ga
La bewda chigja ley chigja jingo
Nga tseyma nanggi semchen singye zoom bey eein
Pho toam bey lini mi jamchey ditsu zatam eein
Sha kaap da naap. Maap da sep
Pho da mo. Cheda nga sey aywa mi
Ani zamling nalu chey lu migto zhi go
Migto nyi dongkha ta. Migto nyi jabkha ta.
Kubtsi chabmi leysha yi.
Nga pham nyi gi cheypei bu
Palden drukpei Bhutan nalu heypei gangley
ngagi rap di gun
Ta-ta-ta-ta ngagi tsumtsig tarrr..
6. Kezang Dorji
Do what you love. Never give up.
Keep working hard & shine like star.
Dato Chey lu janchor mindu zeyr sem Mashi
Cuz gotsup dalu gayra dizoom ra eein.
I hate it when I say this but except for making babies
I've done more than a man eighties.
You can check my resume'.
Kezang how did you make it?
Dato tsintsey la beymi
Gayra trowai tholey beyyi
Tsa geng dira dey yi.
Nyeso Kablu Nyeso madey
Gari Lam zukha la bey.
Chungku gang ley Independent!
To what the haters said?
Never gave a damn. You see Kezang Dorji's
got a mind of a yogi. Kheymi gachi labru rogi.
Beyni eein nga beygo nomi.
Time waste mey khong gi.
Ain't no millionaire yet but yeah I'm self-made.
Gamchi nang do ru nga Jabshu Machab.
Tsa geng dira dey cheyya Jabshu Machab.
Jabshu Machab!
Watch the music video here on YouTube
5,463 total views, 1 views today