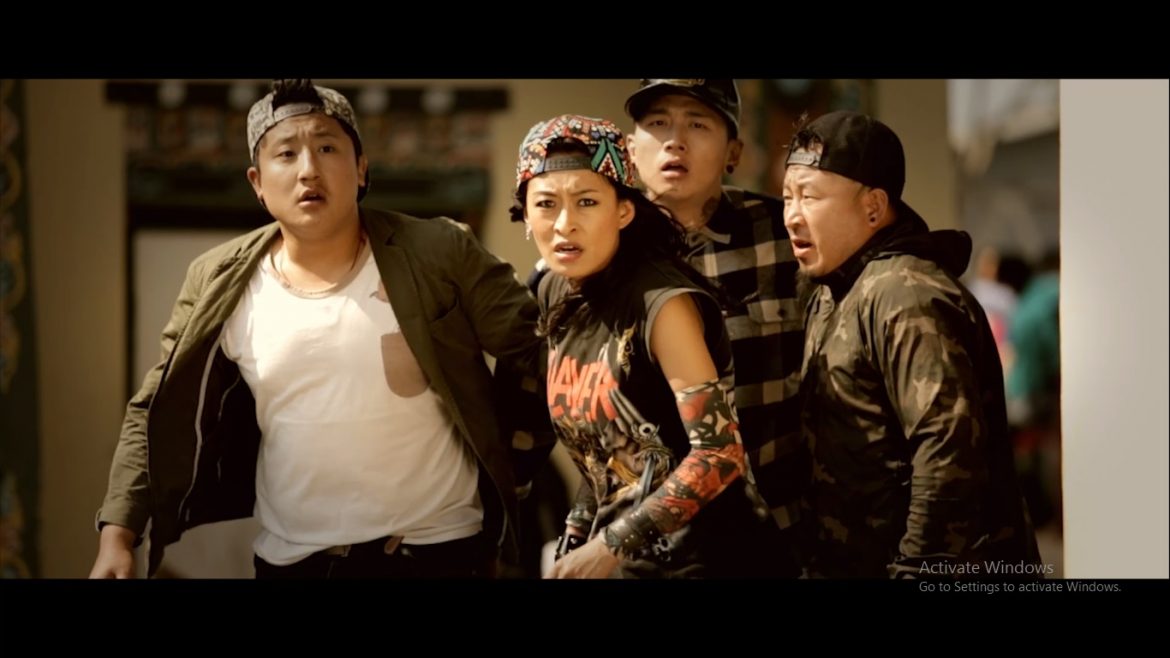 Title– GOKAB (Thrung Thrung Karmo OST)
Artist– Yeshi Bidha feat. Kezang Dorji
Music – Jigme Norbu Wangdi/JNW Studio
Year: 2016
Music Video below
MP3
Lyrics
Verse I (Yeshi Bidha)
 Nga lo chi labni yeysa. Tsachi ngalu ngyen na
Nga labthang leyzhim misa. Dilu zeypa zhey nang
Nga labni eeinmi gayra. Kingi thongsa sheysa
Zamling nalu chey ya jogo nowachin. Chey wangtsey yeymi mi tsugi chey
mi phogo khong ngo shey go. Ganiya meymi migi alu bewachin
chey tabu gokab tsey tseysa dey go. Go gatey dungrura ranggi donggu dzophu thop
Yog tsey ru—-goney sengru. Gachi beyru—Gatey zeyru.
Dizoom beymi—tsang–tsa. Deley la yeymi atsi dra lo
Diya beywachin boss gi cham—cha. Chey beyni masheywachin las-la
Namya ya mijowailo dam—kha. Ani benidigi rigpa yeymi leysha
Dizoom beysa thongbey semshi bey.
Ganiya mabeywa linimey
Julu rangi gyalkhab ginimey.
Lap themo jadi chelu sewa tapgay
Ha godigi ngachey tsugi neytang. Dizoom beyni zhanang.
Go ni zeyru ngachey drangyam drangden tholey GOKAB.
Di wa lhab zhen mi
Hook
 Gokab goni nga. Jabchor goni nga
Nga dranyam drang den goni nga
Nyeri machey chey. Chey tsugi zhen no mada
Ngalu gop di gokab eein. I know that I am a girl (I'ma girl!)
Doesn't mean that I can't do. So don't you dare to pull me down
Verse II (Kezang Dorji)
Ngachey ngyamchung eeinzeyr chelu kidu zhu tsaley meyn
Chelu yeymi ngachey chog bani lap tsaley meyn
Lap dongkha thendi cheyley lham ya meyn
Deley chegi dato gomi zhabthra ya meyn—
(This is a warning) cha da chori beymi gopen
deley thuen lam tholey gokab lenmi mi gayra lu
chegi jawa ngyen pa beydi gokab miba mepjomi
nazhoen tsugi tsip zadi drakey beywai key
Chegi sheyga ikhaley pha
khong tsugi pham ai ngeygi bu
Ai ngeygi bum nam chigi tsey
Khongrai kama longdi kawchey mingo ngachey zoom bey
Rewa keydi gi
Khonglu yeymi meymi gayra alu tsulu zeydro tang
Dari bewdalu
Nathey dreybu thopni bewda chegi chogba
Yeah. Chu yeysa charp chab. Dro yeysa nyim sha
Do zoom bey heyma leyra yeymi tsugi hengkey thopmey
But I'ma let you know we ain't got no problem with that
Cuz a fair and equitable opportunity is all we ask.
Go mi zeyru drangyam drangden tholey GOKAB.
Go mi zeyru drangyam dra  ngden tholey GOKAB
Go mi zeyru
Hook (Yeshi Bidha)
Gokab goni nga. Jabchor goni nga
Nga dranyam drang den goni nga
Nyeri machey chey. Chey tsugi zhen no mada
Ngalu gop di gokab eein. I know that I am a girl (I'ma girl!)
Doesn't mean that I can't do. So don't you dare to pull me down
4,563 total views, 1 views today