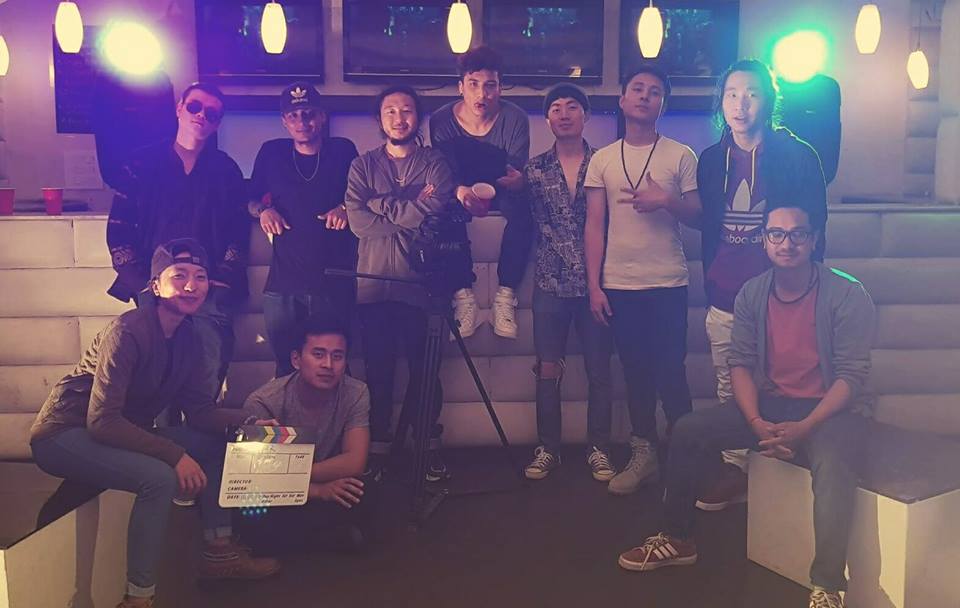 Song: Rap Cypher (Thimphu City Thugs)
Artists: Dre Z D, MNM, Tsherie, Kezang Dorji, Maynia & Drona
Recording & Mix: Play Studio, Bhutan
Year: 2017
Listen to the mp3 here
I just sit back relax,
Contemplating future ion care about the past,
Rapping and ripping it,it's like a fucking reflex,
Like Conor McGregor I like to kick ass,
Survival of the fittest,yeah I'm with this,
you can be a witness,
Don't be fucking up my vibe this ain't none of your business,
With this grind committed, Killing it with consistent,
Need no assistance or resistance bitch I'm too persistent,
I just hop on beat, I just take the lead,
Finna kill the beat with the heat,
Got a beast in me that never fucking sleep,
Indeed,I'm ready to eat, I practice what I preach,
I do it with ease, Here to take over you should leave,
I'm just doing me, Here with the recipe,
Never sweating it dawg cause this is meant to be,
My policy is honesty, That fuck shit don't apply to me,
I grew up as a prodigy,got hiphop in every part of me,
I be chillin with my team that's TCT,
We be blowing out that green we on THC,
Bout to shut it all down till the count of three,
Let me show you what I'm taking about like hold up B
I be chillin with my team that's TCT,
We be blowing out that green we on THC,
Bout to shut it all down till the count of three,
Let me show you what I'm taking about like hold up B
yetsa naya, menkhang naya,
tsoenkhang naya, thremkhang naya,
lhakhang naya, lhopdra naya, zakhang naya,
changkhang naya. ya taru khuenga dhuendup.
ma taru benza guru. gache guche baygo ru dra.
gatey gutey jo goru dra. teru mena loo mee,
teru mena throwa mee, teru mena la mee,
menchoe mee, Zane thungne ghola mee,
charo mee, puncha mee, bum mee.
teru youn ming ya chup. sampi rewa gara drup.
yala mala baygo rura mengo c khong lu time.
O khang nada tsoenkhang naya
ga di mo c khong gi threm.
gosa teru thuenlam di drupi youekha go ra go.
doru tsache tang jenźzz!
(gosa teru thuenlam di drupi youekha go ra go)
chala teru ghola gara shew da lu ba ne me sa
zushe layru nghoree youe ru meru ma j tsache shene shego
zago thungo baygo lapgo dida chekha tsamtsue sheygo,
chup da changkai barna aiwa zo ne mendu.
inn c menbo teru youeru meru me ga ra drenda inn.
chup mena changka mee,
changka mena chup mee. ngachay gara drenda inn
chegi chelu charo bay di men zop mabay.
khaya ma tang gay. mapa kalay dangyem drangdunn?
ga lu sayme dilu dene mo? ga lu sayme dilu lapne mo?
rang ra immbay mena ah?
People call me Tsherie
I'm from the land of the drukpas
just watch me go and get the money watch me blow it on honeys
I'm rapping with professionals what can you say
oh god, this just made my day
I'm out here to blow not just flow
Boy you come real slow and act so low
so please boy don't you try to mess
if you fucking complain imma fuck up your game plan
yeah
if you mess with me boy imma fuck up your game plan
yeah. let's go 1,2
let me switch up the flow
brothers in my arm and I got my baby girl right next to me
believe in me cause I'm out here to make history
don't talk about victory cause the victory's ours
you heard what I said
Thimphu city thugs
it was all a dream but now I got my dream team
let me be straight TCT that's what we rep
please don't try to mess
this ain't a fucking game of chess
we don't need to guess hip hop is what we possess
all these rappers giving tension but we don't pay attention
we busy grinding busy hustling always about the mulla
sick of all this drama we might send you guys to coma
let's not do this we'll make you think about your dear mama
you talk about karma, yeah karma is a bitch
but don't you worry now cause we always practice dharma
call us the TCT, Thimphu city thugs
all we wanna do is smoke that g shit dhuks
Laso. Laso. Laso. Daru log wongyi marey
Khatsa nubley zilwai nyim dari thendo zoom sharlay
I kept coming back like Jason since I first came
Ngotrey zhuwa chin, Kezang Dorji is my name.
Nam lo nyiktong din ley I started to perform
Four years later I dropped my first song
Di gangley deyyi haters. lama dato ya mo!
Mapa ngalu kheymi gachi no-ru-no
They say hate's a colder version of love and jealousy
So, I got love for you no matter what you've been telling me
Plus I'm vegetarian. So, I don't need no beef.
You can have all the meat. Worthless to compete.
My purpose is peace. There's more than just the sty.
Got no time like no swine. I'm focused on my grind.
Like Siddhartha in BodhGaya. Nothing can harm me.
Skin like Bruce Banner. One man army!
Drupei O.G.Yeah.
All I do is work
Like a 4.o GPA sophomore from Berkeley
Oh dem Bs be all over my D cuz I play hard
When I spit Bhutanese folks looking at me like
I'm a retard. Yeah.
Depressed by the fact dhubee peeps
Predict that I can't make an impact
They say I lack the skills to thrill
But I'm always on my mac keeping it trill
No faking no poker faces going ham leaving
Traces of me in the making of becoming a beast
Moi
The best in the east from the west
Born blessed compared to the rest
Test me and I'll sink you six feet under like the rest
Trust me you don't wanna end up in that kind of mess
Confessed I'm oppressed with stress
If you fuck with my La Familia we gon guest with zest
Till we find you fuckers and fuck you fuckers up like a pest
Blood will be shed leave you drenched in red
Mummified in surgical tapes on a hospital bed, yeah,
I'm expressive and eloquent unlike Moses
Life's good homie on a bed of roses
Me, myself and I opened up my third eye bitches
I can see success embossed on my forehead
I can see seven figures figured on my forehead
Separated by two commas and I'm talking about dollars
Racks on racks on racks of C-Notes
Every dog has his day, I'm on my way USA.
T City
Let's go With the Flo
Swim with the beat and get down low
Ae bro You fat hoe
Ha..Can't even see your own stinky toe
I'm a super nature creature with a feature of rap teachers
and a Devil preacher in a bleacher
and you be a ball ditcher while the pitcher
throws a ball which will beat ya hit ya
might wanna stick ya genital feature
I'm ripping it up with a drink in my cup
a principal at a school you be the sub
subliminally imma murder you bitch
with ma lyrical dagger and very low pitch
Take you in a basket put in a casket
And murder you fucker your head imma stack it
Im A sophisticated machine who made it
Bet you can't crack it And nor can you hack it
Im a rapper with a paper writing down a fucking letter to society
About matters that has been up in my mind
i aent just sitting here damnn quietly
Don't you dare critic on this
cuz I might just burn you alive till the third degree
Dump your ass in the Blackest Sea
You be my torturee
And you a fat boy. I be a bad boy
So get outta ma face and play with your fucking sex toy
You be a gay boy.
You be ma decoy.
Milking a cow is what you do best.
You a cow boy.
Man my Mary Jane is lit Take one hit and you fucking fall
So lit It's 100% Tetrahydrocannabinol
Can't we be in ecstasy without the pill?
Why is there an eye of ra in a dollar bill?
Then, why ask God for all the money?
When we know the root of all evil is money
Imma make some money even when I'm taking a dump
If you think money aint everything go ask Donald trump
You can't hide your pimples with your fake cosmetic case
You can't face the problem when the problem is yo face
Sapai kukur din awong tsa but today is not your day
You stray dog I don't have a place for you to stay
I'm unique I'm black in a yellow nation
Is peace all that you need?
Let there be no religion
I'll teach you how to be famous
Teach you how to deal with your sorrows
Drag my name in your track
you gonna be famous from tomorrow
Thimphu City Thugs!
Watch the Music Video
12,627 total views, 2 views today