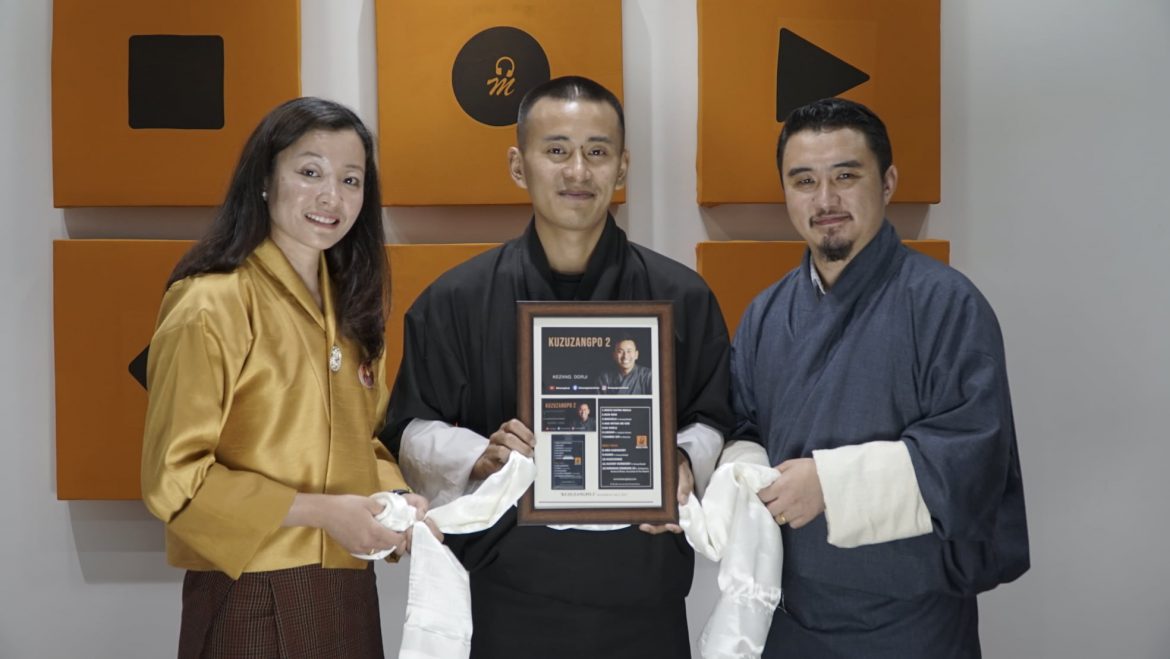 Rapper Kezang Dorji officially released the physical copies of his second album 'KUZUZANGPO 2' on July 7, 2021.
The album is on an 8GB USB drive with a free space of more than 7GB. The album will be sold for Nu 500 each. 50% of the revenue from the sales of the album is to be donated for a social cause. The donation amount and the receiving agency will be revealed when the sales is closed.
You can buy the album on this link (Bhutan OK: www.bhutanok.bt)
KUZUZANGPO 2
The  Album has 7 songs with 5 bonus songs (total 12 songs) which are performed  in Dzongkha, English and Tshanglakha (Sharchop)  featuring other Bhutanese artists like Jangchuk Choden, Phub Zam, Kezang Wangdi and his fellow rappers.
Most of the songs have social messages interwoven with the rapper's personal story and experiences. The themes of the songs range from rural urban migration (LOKSHO) to spirituality (Chab Su Chi).
Here's the track list of the songs on the album:
Bonus Tracks
8. Ama Kadinchey
9. Charo ft. Kezang Wangdi
10. Kuzuzangpo
11. Kuchey Sungchey ft. Kezang Wangdi
12. Dongkha Dongkha Jo ft. JD Rebellions, Karma E. Norbu, Kruxibles & The Rajesh
Music for all the songs are produced by M-Studio Bhutan.
Prior to the release of the physical albums the songs were released on digital platforms like Soundcloud, YouTube and Facebook in 2019. The songs have more than 3 million online streams. The physical album was kept on hold due to the pandemic.
Here's the YouTube playlist of the album.
Check the album on soundcloud.
With the digital release of the album, Kezang did the Kuzuzangpo Tour 2 in 2019 in which he visited all the 20 districts of the country performing the songs in the album and talking to students in schools and colleges.
The album is a sequel to 'The KUZUZANGPO Album' released in 2017.
Kezang released his first album in 2011 as a part of the college band, Sherubtse Rockers' self titled album, "Sherubtse Rockers Vol. 1-Make a Difference" which featured his first song 'Chegi Denley.'
2,085 total views, 2 views today